Master of Science Program "Digital Technologies and Smart Infrastructure in Agriculture"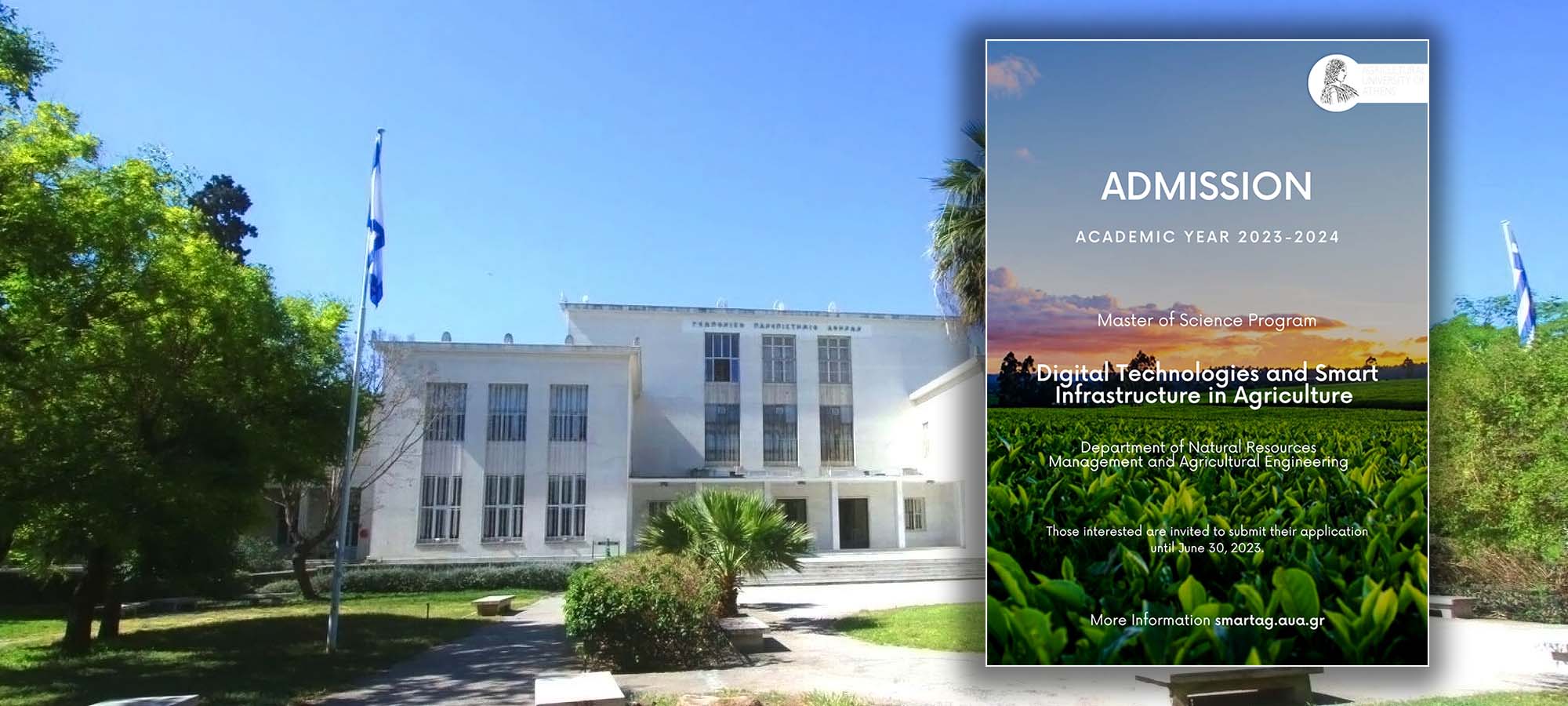 The Master of Science Program "Digital Technologies and Smart Infrastructure in Agriculture" is offered by the Department of Natural Resources Management and Agricultural Engineering of the Agricultural University of Athens.
This MSc is in English and has as its objective the specialization in the scientific domain of smart technologies and infrastructure across the agri-food supply chain and the protection of the environment.
It will allow the graduates to be trained in new knowledge and acquire skills in modern agriculture, which are of high importance globally. They will obtain a good combination of hard and soft skills that will better prepare them for their future professional careers as experts in many critical operations of the agricultural sector in the digital era.
Through the MSc, students will acquire skills related with innovative technologies reshaping the agricultural processes, like precision agriculture, Internet of Things, robotics, automation, optimization and machine learning, cyber-physical system design, reduction and replacement of fossil fuels in agriculture and introduction of renewable energy. Furthermore, they will build capacities toward a more efficient management of resources and of supply chain processes, and they will be encouraged to develop a better understanding of controlled environment agriculture or deploy enhanced agricultural machines and structures. 
The program spans three semesters, which include compulsory and elective courses, as well as the elaboration of a thesis during the third semester. In parallel, students will have the opportunity to follow an internship, of one to three months, in companies of the agri-food sector, in order to become familiar with the real market trends and challenges and to practice on the knowledge acquired during the previous two semesters.
For the Academic Year 2023-2024, those interested are invited to submit their application along with the necessary accompanying documents to the Graduate Program Secretariat or send them via e-mail at: smartag@aua.gr from until June 30, 2023.
For more information, those interested can contact the Director of the MSc Professor Mr. N. Derkas (tel. 2105294030, e-mail ndercas1@aua.gr), the Coordinator of the MSc Associate Professor Mr. S. Fountas (tel. 2105294035, e-mail sfountas@aua.gr), the Secretary of the MSc (tel. 210 5294053, e-mail smartag@aua.gr), as well as at the Secretariat of the Department of NRM&AE, (tel. 210 5294122).
Official Site: http://smartag.aua.gr/