5th Scientific Meeting on Landraces and Indigenous Varieties «This small, this great world»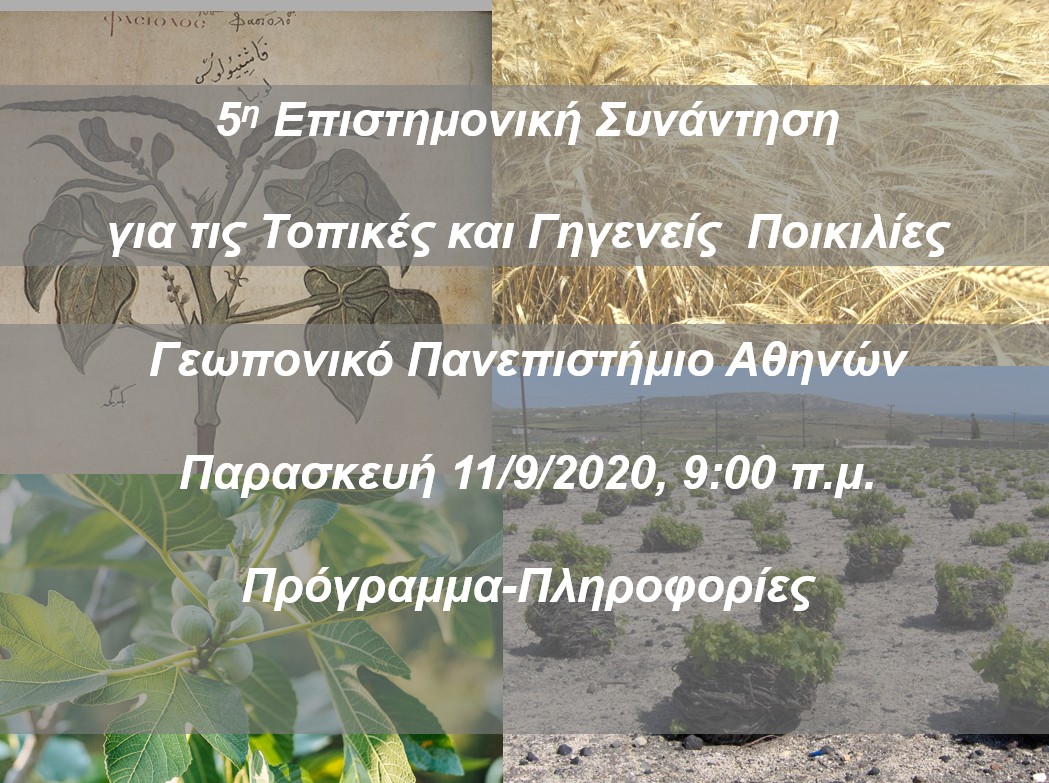 Agricultural University of Athens is celebrating its 100th anniversary in 2020
On this occasion, we are delighted to invite you to attend the
5th Scientific Meeting on Landraces and Indigenous Varieties
«This small, this great world»
On Friday, 11th September at 9.00 am
There will be free access to the sessions of the Meeting, only in Greek, through internet in the following address: http://mediaserver.aua.gr/live/
Τhis verse of the Nobelist poet Odysseus Elytis from the poem "To Axion Esti" (It Is Worthy) suits perfectly the landraces and indigenous varieties. The latter make a great "cosmos", a whole world of human history, consisting of centenarians olive orchards and multi-varietal vineyards met in insular and continental Greece and originating from the remotest past. In parallel, they form a small world, an unknown world with microorganisms participating in many processes (like the must's fermentation), various puree of Aegean islands and so many other wonderful offspring. All these worlds are precious and must be preserved.
            The Scientific Meetings aim at bringing into contact specialized scientists with cultivators fostering/cropping landraces and having income out of it. During these meetings scientists make presentations on unknown and innovative aspects of archeological research, history and agronomic sciences. The organizers' aspirations are centered on two goals: realize the landraces' preciousness and become conscious of our collective responsibility for preserving, studying and promoting them.
            The idea for organizing Scientific Meetings on landraces has been developed at the Agricultural University of Athens. Scientists working for different laboratories belonging to this University participate to these meetings. Moreover the Agricultural University of Athens takes an interest in collaboration with other Universities and Research Centers on this topic.
            The 5th Meeting, because of the extraordinary conditions due to the coronavirus restrictions, will take place without the presence of audience. There will be free access to the sessions of the Meeting, only in Greek, through internet in the following address: http://mediaserver.aua.gr/live/
                                                                                                                           The Organizing Committee