3rd School of Ecology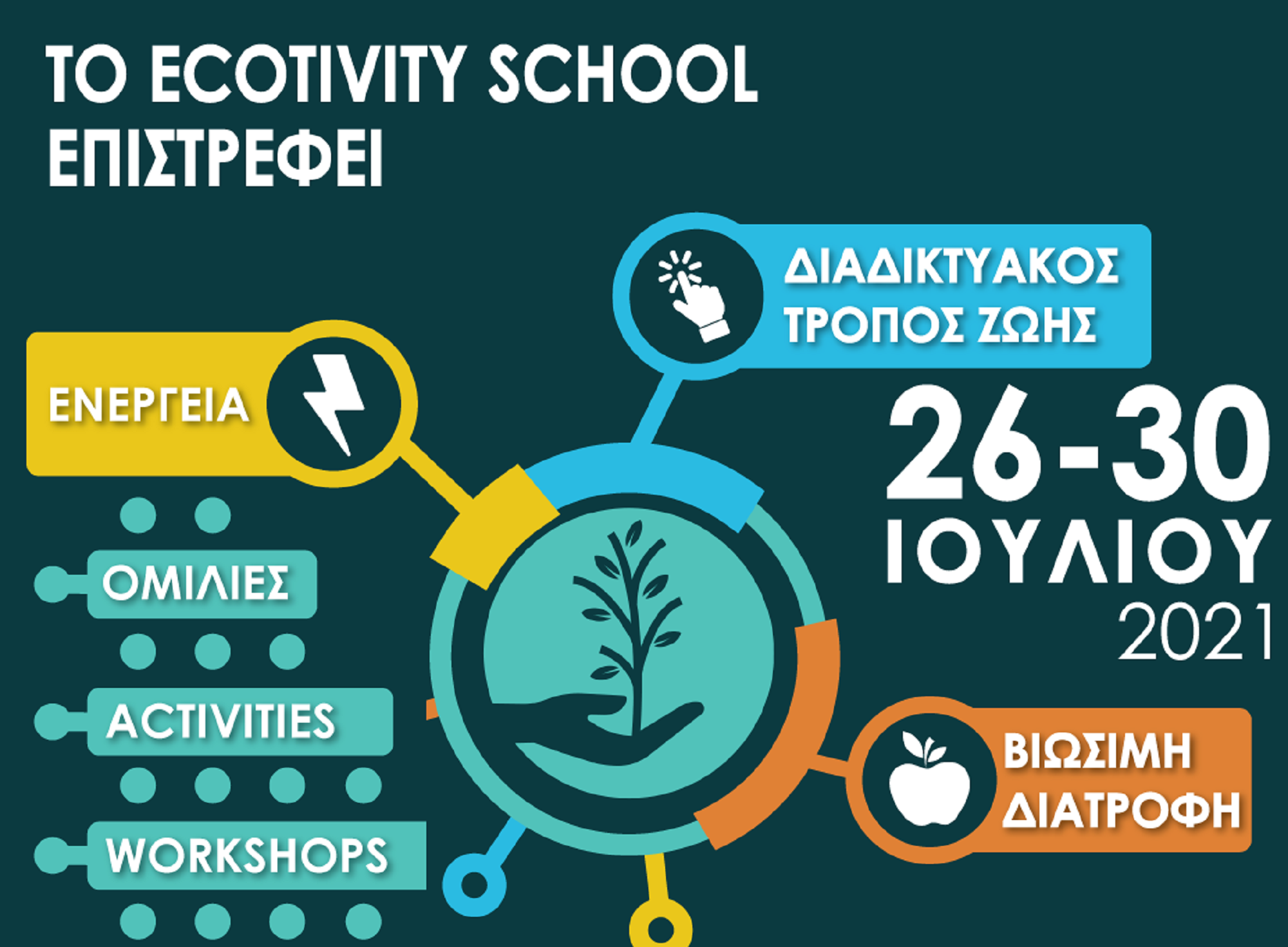 Date:
Saturday 26 Jun 2021

to

Wednesday 30 Jun 2021
Press Release for Communication Partners
The return of the third continuing Ecotivity school, this year is finally here!
When will it be conducted ?
The five-day summer school will be conducted online, on 26 to 30 July 2021 and its duration will be around 10: 00-18: 30. .The applications started on Monday 7 July and are bound to close on Friday 25 May, at 23.59. 
If you are young, aged 18-26 years old, and you are interested in issues related  to ecology and sustainability, then you should apply to this project immediately! Learn more above. 
What are this year's topics?
This year our team decided to deal with three topics of everyday life that we do not often think their own ecological and social footprint:
Online and Electronic Lifestyle

Energy

Sustainable Nutrition
How to apply?
If you are interested in these topics, then you can apply by filling the following form:
https://forms.gle/wCtbjuohsm4GPs9N9
What to look out for:
Before completing your application, we emphasize that:
All young people from all over Greece, aged 18-26, have the right to participate, while the basic prerequisite is the internet connection and the possibility to use a camera and a microphone.

The applications will close on Friday 25/06, at 23:59, while their evaluation will follow and later the final participants will be informed via email.

Those selected participants will have to confirm their participation within a given period of time to secure their place in the five-day summer school.

This year's participants will be a total of 50, while there will be a list of candidates for any cancellation or non-confirmation of participation.

The summer school is free, while the organization is purely non-profit and is done by young volunteers.
For further instructions, do not forget to read in detail the instructions and conditions that you will find in the application form.
Now, a few words about Ecotivity School:
The aim of the Ecotivity School is to inform, raise awareness and activate young people directly and validly on the environmental issues of nowadays. On these axes you will attend interesting and specialized lectures, interesting workshops and interactive virtual bonding activities.
Ecotivity School was created for the first time in 2018, through a scholarship of the Volunteering Team of AUA at the NCG forum in collaboration with teams from 3 more countries. In 2019, the implementation of this project took place thanks to the financing of this one-year scholarship. However, its great success and the willingness of the young people, led us to the decision to organize it again next year, this time online, always respecting the protection of public health, with the ultimate goal of managing to make it a stable annual institution. This year, it has reached its third consecutive year of organization, in order to help even more young people to be informed correctly and validly and to mobilize them on current critical environmental issues. Finally, it is worth noting that the Ecotivity School is organized by young people voluntarily and is aimed at young people and has a non-profit character.
Find more about us on Social Media :
For any further information or questions, you can contact us at the e-mail  info@ecotivity.gr or through the Social Media of our team.